The National Fantasy Fan
From ZineWiki
Jump to navigation
Jump to search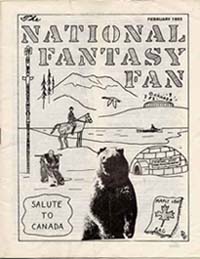 The National Fantasy Fan was a science fiction fanzine published by the National Fantasy Fan Federation.
The National Fantasy Fan Federation is a science fiction and fantasy society based in the U.S.A. that began in 1941, and the same year began publishing its official organ, Bonfire. Louis Russell Chauvenet is credited with naming the fanzine, and was actively involved in the formation of NFFF, serving as its first president. Approximately fifteen issues in total were released as Bonfire between its beginnings in June 1941 and the final issue of December 1944, at which point the name of the fanzine was changed and it became The National Fantasy Fan.
The National Fantasy Fan was published continually from 1944 till 2009, with many different editors at the helm over the many decades it has been released. The editors have included:
1945 E.E. Evans and Jack Speer
1946-1947 Charles Tanner, Walter Dunkelberger, Milton A. Rothman
1947-1948 Ray C. Higgs
1950-1952 Art Rapp, Stuart S. Hoffman, Ray C. Higgs
1953-1954 John Magnus
1954 Nan Gerding and Honey Wood
1957 Eva Firestone
1961 Ralph Holland
1962 Robert Osman
1963 Donald Franson
1964 Donald Franson, Janie Lamb, Wally Weber
1965 Wally Weber
1968 Don Miller
early 1970s Joanne Burger
mid 1970s Sheryl Birkhead
late 1970s Joanne Burger
1979 Nick A. Grassel, Joanne Burger, Irvin Koch, Owen K. Laurion
1991-1992 Tom Gatewood
2000 Janine Stinson, Ruth Davidson, Bob Sabella
2001 Janine Stinson
2003 Janine Stinson, Laura Hazelwood
2004 Ruth Davidson, Bob Sabella
2005-2006 Bob Sabella, Ruth Davidson, Jeffrey Redmond, Chris Garcia
2008 Ruth Davidson
2009-2010 Heath Row
The May 17, 2001 issue of the club fanzine merged The National Fantasy Fan and Tightbeam into The National Fantasy Fan (Janine G. Stinson, editor), and was dated Volume 1, No. 1.
Some of the many contributors of writing have included Forrest J Ackerman, Frank Balazs, Martha Beck, Redd Boggs (Sky Hook), Don Brazier (Title, Farrago), Rick Brooks (Nargothrond), John Brunner (Noise Level), Ruth Davidson, August Derleth, E. Everett Evans, Eva Firestone, Denise Fisk, Donald Franson, Nan Gerding (Starlanes) Hugo Gernsback, Sarah E. Harder, Seth Johnson, Arnie Katz (FIAWOL), David H. Keller, Janie Lamb (The Heiskell Holler), Al Lewis (Shangri L'Affaires), Jacqueline Lichtenberg, Dave Locke (Awry), Norm Metcalf, Sam Moskowitz (New Fandom, Different) Angela Myers, Fred Patten (Lefnui), Boff Perry (Vampire Index) George Nims Raybin, Jeffrey Redmond, Jack Robins, Steven Rose, Jr., Heath Row, Michael Kalen Smith, David Speakman, Jon D. Swartz, Roy Tackett, R-Laurraine Tutihasi (Feline Mewsings), Keith Walker, Holly Wilson, and Stan Woolston (Moonshine).
Fiction has been contributed by Richard Brooks, Ralan Conley, L.A. Vern Loretz, Jr, with Heath Row, Jim Munroe, George Phillies, and Jefferson P. Swycaffer, among others.
Reviews have been contributed by John Boston, Mike Deckinger, and Susan Magnus.
Some contributors of art work include Ruth Davidson, Margaret Dominick (DEA), Matt Dye, Jackie Franke (Dilemma, Resolution), Brad Foster, Sarah E. Harder, Patricia King, Lee and J.J. MacFadden, Shane McGrath, Michael Mitchell, Ray Paul Nelson, Angela Scott-Cox, Jacob Stoltz, and Tom Welch.
External Links