The Heiskell Holler
From ZineWiki
Jump to navigation
Jump to search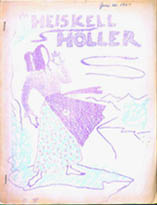 The Heiskell Holler was a science fiction fanzine by Janie Lamb.
The Heiskell Holler was published in the 1960s in Heiskell, Tennessee, U.S.A.
In the 1950s, Janie Lamb had been a member of the The International Science Fiction Correspondence Club (ISFCC), whose official organ was The Explorer, which Lamb contributed to, among other fanzines in the 1950s and 1960s.
Irv Koch (Maybe), writing about Tennessee fandom for the 1997 Southern Fandom Confederation Handbook & History, says, "Before there was anything else there was Janie Lamb, R.I.P....Janie Lamb was a tremendously important fan in the '50s and early '60s who is nearly forgotten today, probably because she devoted most of her fanac to the NFFF."
According to Partners In Wonder: Women and the Birth of Science Fiction, 1926 - 1965, by Eric Leif Davin, Janie Lamb served as Treasurer of The National Fan Federation in 1954, and according to Women in Science Fiction and Fantasy by Robin Anne Reid, "Jamie Lamb began a long career of leadership in The National Fan Federation (N3F)."
Ned Brooks, editor of It Goes On The Shelf, writes for the 1997 Southern Fandom Confederation Handbook & History, "I also knew Janie Lamb as the benevolent dictator of the NFFF. She lived in a house full of books and guns back behind Knoxville--her husband collected Lugars and she collected SF and Marie Corelli, a curious occult novelist of the early 1900s."
Joe Celko, writing in Mimosa #10, July 1991, relates, "The... Knoxville DSC (DeepSouthCon), in 1969, was hosted by Janie Lamb...Janie was older than most of the fans and was a delight to be around because you did not expect an adult to act like that. A genuinely good, fun human being."
Janie Lamb was the recipient of the 1962 Kaymar Award, given by the National Fantasy Fan Federation, the 1967 Big Heart Award, and the 4th DSC Rebel Award, for 1971.
Jamie Lamb was also one of the editors of The National Fantasy Fan, co-editing in 1964 with Wally Weber (Cry of the Nameless), and of Tightbeam, both publications of The National Fan Federation, and another of her own fanzines, Mi-Fyrst.