Maybe
From ZineWiki
Jump to navigation
Jump to search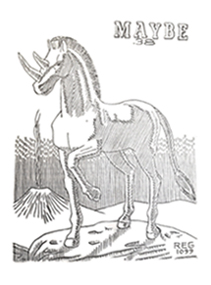 Maybe was a science fiction fanzine published by Irvin Koch.
Maybe was published in Chattanooga, Tennessee, U.S.A. and alter in Atlanta, Georgia, in the 1970s. Issue 6 appeared in July-August 1970. Issue 39 was released in 1975, and issue 49 in 1978. 65 issues were published, the last in 1985.
Contributions of fiction included "A Hunting We Will Go" by Thomas Burnett Swann, and "The Crushing Death", "The Dead Land", and "The Ring of the Demon God" by Robert Weinberg, among others.
Contributions of articles included "Blowout at Dead Possum Underpass," by Allen Steele, among others.
Contributors of art work included Jackie Franke (Dilemma, Resolution), Brad Foster, Tom Foster, and Robert E. Gilbert (REG), among others.
Other contributors included Glen Brock, Alexis Gilliland, George Hay, John Jakes, Andrew Offut, and Jeff Schalles (Science Fiction Five Yearly).
Letters came from Chester Cuthbert, and Leon Taylor, among others.
Darroll Pardoe, in Checkpoint #48 of May 1974, says in his review; "Maybe is a very useful publication, with lots of short notices of fanzines and information cribbed from other places. Reading Maybe is one of the best ways of keeping in touch with fanzines in the States. Some chatter this time about crottled greeps and filk duncing. Recommended. Lovely cover, too."
Irvin Koch was the recipient of the 1970 Rebel Award, s lifetime achievement award awarded annually at DeepSouthCon, given by the Southern Fandom Confederation to a fan "who has done a great deal for Southern Fandom.