Different (Moskowitz)
From ZineWiki
Jump to navigation
Jump to search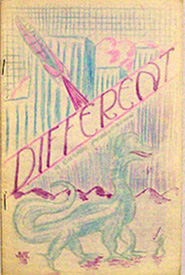 Different is a science fiction fanzine by Sam and Christine Moskowitz.
Different was first released in the U.S.A. by Sam Moskowitz in the 1930s. Two issues were released, the first in May 1938, and the second in October 1938. It was "A Cosmic Publication", one of a number of fanzines produced on ditto for the editors by James Taurasi, which also included Cosmic Tales and The Nucleus.
The first issue was produced especially for the First National Science Fiction Convention, which was held in Newark, New Jersey, on May 29, 1938. It features the science-fiction story "Fate" by William Dewey, and the article "Thrilling Wonder", by James Taurasi. The cover art work is also by James Taurasi.
In the 1950s, the title was revived by Sam and Christine Moslowitz. Volume 2, No. 1 was published in Newark, New Jersey, U.S.A. in October 1958, and Vol. 2, No. 3 was released August 1961. In 1968 the 30th Anniversary issue was published, and included a manifesto by Moskowitz regarding recent trends in Science Fiction, which proved contentious. Volume 4, No. 4 was published in November 1977, and may be the last issue to be released.
Contributors of writing included J.J. Pierce, among others.
Sam Moskowitz also published Helios from 1937 till 1938, and New Fandom, from 1938 till 1940.
External Links