The Nucleus
From ZineWiki
Jump to navigation
Jump to search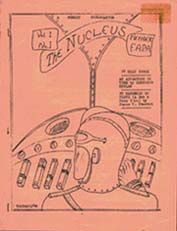 The Nucleus is a science fiction fanzine by Gertrude Kuslan and Louis Kuslan.
Gertrude, known as 'Trudy', and Louis Kuslan published eleven issues of The Nucleus in the 1930s and 1940s in West Haven, Connecticut, U.S.A. It was called a "Cosmic Publication" and it was distributed through the Fantasy Amateur Press Association.
The first issue appeared in July of 1938 with a cover drawn by James V. Taurasi. It featured a story by Gertrude Kuslan entitled "An Adventure In Time", and a fiction piece by Taurasi called "It Happened On Pluto". Taurasi had been the founder and editor of Cosmic Tales from 1937 till 1938, at which time he handed the fanzine over to the Kuslans to edit. They published Cosmic Tales from 1938 till 1939 at the same time as they released The Nucleus.
Issue two again featured a cover by James Taurasi, this one of a giant robot running amok.
Issue 3 was published in May 1940. The pink front cover declared that this was a FAPA zine. It featured an article entitled "The Female Fan" and a short essay about James Branch Cabell.
Issue 4 was released in Sept, 1940, with another pink cover that announced that this was the "Gilbert and Sullivan Issue". Within its 16 pages was included a satire of the Futurians.
Vol. 3 No. 1 was published in September 1941. Vol. 3 No. 3 appeared in Spring 1942. It included social commentary, and "Portrait of a Fan", a spoof of Forrest Ackerman (editor of Voice of the Imagi-Nation) by Gertrude Kuslan.
Volume 4, No. 2, was released in September 1944 and was edited solely by Trudy Kuslan.
After this issue, as reported by the Fanzine Index, created by Ned Brooks, Vol. 5, No. 1 and No. 2 were also released.
Gertrude and Louis Kuslan also published the newsletter The Miscellany.