Nargothrond
From ZineWiki
Jump to navigation
Jump to search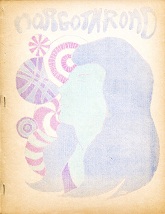 Nargothrond was a science fiction fanzine edited by Rick Brooks and published by Alan G. Thompson from North Aurora, Illinois, U.S.A.
The first issue was released in 1968, and included prose from Rick Brooks, Buck Coulson (Yandro), and Alan Thompson. Illustrations were by Kathy Bushman, Juanita Coulson (Yandro, ST-Phile), Sandra Miesel, Alan Thompson, Billie Thompson, and Helen Tunison. Cover art was by Kathy Bushman. Letters came from Kay Anderson (ST-Phile), Kathy Bushman, and Sherna Comerford (Spockanalia).
The second issue, appearing in 1968, included prose by Jerry Barich, Rick Brooks, Sandra and John Miesel, and Alan Thompson; poetry by Sandra Miesel and Sandra Tell; book reviews by Brooks; and illustrations by William Dear, Sandra Miesel, Billie Thompson, and Helen Tunison (who also did the cover art for this issue). Letters were from Phyllis Eisenstein, E.A. Johnson, Devra Langsam (Spockanalia), and Sandra Miesel.
The third and fourth issues were combined into a double issue and distributed in January of 1969. This issue featured prose by Rick Brooks, Kevin Maul, Sandra Miesel, Billie Pahl Thompson, and Kay Wilson; poetry by Janet Fox (Scavenger's Newsletter) and Christopher Walker; and artwork by Pat Barnwell, Bill Bowers (Star*Dust, Outworlds), Glen Brock, Richard Delap, Helen Tunison Klocko, Sandra Miesel, Steve Rasnic Tem (later editor of Umbral), Darrell Schweitzer, and Joe Zalabak. Delap did the cover art. Letters of comment were from Don Cardoza, Hank Davis, Mike Deckinger, Richard A. Delap, Seth A. Johnson, Bill Mallardi, Ron Smith (Inside and Science Fiction Advertiser), Joanne Swenski, Roger Zelazny, and others.
Rick Brooks is a distant midwestern cousin to Ned Brooks, editor of It Goes On The Shelf.