Scavenger's Newsletter
From ZineWiki
Jump to navigation
Jump to search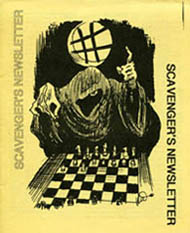 Scavenger's Newsletter was a literary newsletter by Janet Fox (1940-2009).
Janet Fox published Scavenger's Newsletter beginning in 1984 from Osage City, Kansas, U.S.A., until it ceased publication in 2003.
Five features were included in every issue: "The Scroungings", a listing of fanzines and small press publications sent in by editors looking for material, which was the main part of the newsletter; "Slim Pickin's", news about good and bad editors and magazines; "Junkmail", the letter column; and "Flea Market", the classifieds. Scavenger's Newsletter also regularly featured short stories and poems by authors of weird fiction, horror, science fiction, and tales of the Supernatural. Scavenger's Newsletter also featured a rotating review column which focused solely on the small press. This column, written in diverse styles due to the rotating nature was often the only place a writer, editor or artist within the small press would receive recognition. The columns were known for bringing to light arcane and eclectic magazines, books publishers, and editors.
Contributors of fiction and poetry included Mike Allen (Mythic Delirium), Matthew Lee Bain, Lawrence Barker, Stephanie Bedwell-Grime (Timeframe), Patrick Scott Belk, Deborah J. Beyer, Bruce Boston, Dan Crawford, Paul DeCirce, T.A. Di Roma, J.W. Donnelly, T.M. Eaton, Tim Emswiler, Paula Fleming, John M. Floyd, Sean Russell Friend (Overspace), Victor A. Gallis, Jessica Gates, Peter F. Jeffery, Diana R. Jenkins, Brian Keene, Lynne Kinghorn, Naomi Kritzer, Angela Lam, Donald J. Levitt, B. Lewis, D.F. Lewis (Nemonymous), Duncan Lloyd, Todd Mason, Lyn McConchie, Dodie Miller, Vincent Miskell, A.R. Morlan, Joe Murphy, Mark Rainey (Deathrealm), Octavio Ramos, Jr., Patricia Russo, Anne K. Schwader, Joy V.Smith, Steve Sneyd (Data Dump), Kiel Stuart, Wade Tarzia, Jonathan Titchenal, Tamara Wilhite, Stephen Jarrell Williams, and Trent Zelazny.
Contributors of articles, essays, and interviews included Nancy Bennett, Judith F. Bullock, Klaus Bung, Jeanne Cavelos, Kristine Coblitz, Thomas Deja, Lisa Eagleson-Rover, Loring Emery (La Pierna Tierna), Donna Farley, Joyce Frohn, R. David Fulcher, Ken Goldman, Jim Lee, Bob Liddil, Michael McCarty, Russ Miller, Wendy Rathbone, Steven Sawicki, Marge B. Simon (Star*Line), Joy V. Smith, Steve Sneyd, Darren Speegle, Garth Spencer (The Maple Leaf Rag, BCSFAzine), Jonathan Torres, Don Webb, H.P. Werner, and Billy Wolfenbarger.
Contributors of art work included Virgil Barfield, Ray Basham, J. Walker Bell, Bob Crouch, Richard Dahlstrom, Charles S. Fallis, Peter Francis, G.N. Gabbard, Allen Koszowski, Russ Miller, Vincent Miskell, John R. Platt, Mark Rich (Treaders of Starlight), Linda Sherman, Marge Simon, Denis Tiani, Misti Turner, and Eric York.
Also included were interviews with writers and editors such as Scorpions Dream editor Anna Boudreau, G. Sutton Breiding of The Punk-Surrealist Cafe, Indigenous Fiction editor Sherry Decker, Dark Matter editor Cristopher Hennessey-Rose, Mindmares editor Tracy Martin, The Urbanite editor Mark McLaughlin, William F. Nolan, co-editor of Rhodomagnetic Digest, poet and Data Dump editor Steve Sneyd, and artists such as Cathy Buburuz, editor of Champagne Horror, Sandy De Luca and Jamie Oberschlake.
External Links