Rhodomagnetic Digest
From ZineWiki
Jump to navigation
Jump to search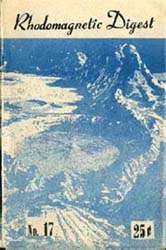 Rhodomagnetic Digest was a science fiction fanzine published in Berkeley, California, U.S.A.
The first six issues of Rhodomagnetic Digest were edited by George T. Blumenson and published between 1949 and 1950, constituted Volume 1. Six consecutive issues, Volume 2, were edited by Don Fabun and Donald Baker Moore, and Volume 3 was edited by Don Fabun. The editorial staff was Gladys Fabun, George Finigan, William Nolan and Maggy Garrison. It was published by the Elves' Gnomes' and Little Men's Science Fiction, Chowder and Marching Society. They described themselves as "A Society Dedicated to the Purpose of: bringing together people with an interest in Science-Fiction and Fantasy for mutual enjoyment and enlightenment. The entire run of the fanzine was from 1949 till 1951. The title was revived for three issues in 1962 by Al HaLevy.
Contributing artists included Bob Beestem, Marv Bowen, Hubert Buel, Kenn Davis, George Faraco, Elizabeth Farmer, William F. Nolan, H. Richardson, and Barbara Scott.
Contributing writers included Poul Anderson, John Basinski, George Blumenson, Anthony Boucher, Karl Boyer, Ray Bradbury (Futuria Fantasia), William Bright, Fred Brown, Gregg Calkins (Oopsla!), John W. Campbell, Jr., Arthur C. Clarke, Es Cole, Les Cole, Bob Connell, Don Day (The Fanscient), J. Lloyd Eaton, George Ebey (Sappho), J.R. Emmett, William A. Erwin, Jr., Don Fabun, Gladys Fabun, Paul H. Finch, George Finigan, H.T. Gordon, Andrew Gregg, Mark Harris, George Hersh, Hazelle Hersh, C.G. Higgins, Barbara Hunt, Robert Barbour Johnson, George Kelley, David B. Koblick, John Larkins, Bob McCary, Annette McComas, J. Francis McComas, Donald Baker Moore, Bill Murr, Gary Nelson, William F. Nolan, J. Pensky, Darrell C. Richardson (The Fabulous Faust Fan-Zine), Vaughn Green Rivers, Sam Sackett (Fantastic Worlds), Leland Sapiro (Riverside Quarterly), Bob Shaw, R.N. Shiras, Bob Silverberg (Spaceship), Norman Siringer, David G. Spencer, William F. Temple (Novae Terrae), P. Ray Terit, Jack Vance, Yancy Wadsworth, W.W. Wagner, Raymond Wallace, Jack Williamson, Walt Willis (Slant), and Elliot Zands.
The October 1962 issue, Vol. 5, No.2, included Al HaLevy's Tolkien Index, later reprinted in Niekas.
Letters came from Poul Anderson, Isaac Asimov, Anthony Boucher, Ray Bradbury, G.M. Carr (Cry of the Nameless), August Derluth, Paul Powlesland, and Larry Touzinsky (Fan To See).
External Links