Niekas
From ZineWiki
Jump to navigation
Jump to search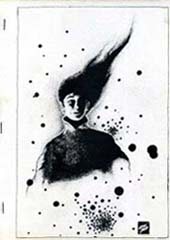 Niekas is a fanzine that spans fantasy and science fiction interests with a basis in Tolkein, edited by Ed Mesky.
Niekas was begun in 1962 as an apazine, before becoming generally available, and published in New Hampshire, U.S.A. Ed Meskys wrote about the zine, "I started a separate mailing-comments zine for the APA, and changed its name to NIEKAS and started the numbering over again with the June 1962 issue.... Since there was no Tolkien fanzine being published I decided to devote NIEKAS to Tolkien and try to run at least one Tolkien related piece in each issue." The word 'Neikas' is Lithuanian for nothing or nobody.
Felice Rolfe joined as co-editor and the two editors won the Hugo Award for Best Fanzine in 1967. Later on Rolfe left and in the 1990s Ed Meskys was Editor-In-Chief, with Anne Braude the Associate Editor, Todd Frazier the Assistant Editor, and Jim Reynolds as Art Director, and Production.
Contributors included Poul Anderson, Piers Anthony, John Baxter, Ruth Berman (Dinky Bird, SH - sf Fanthology), John Boardman, Anthony Boucher, Nan Braude, Charles N. Brown, Betty J. Bruther, Margaret L. Carter (The Vampire's Crypt), Anne Chatland, Matthew Cheney, Joe Christopher, Robert Coulson (Yandro), Don D'Ammassa (Mythologies), Amram Davidson, Grania Davidson, Eric Leif Davin, Philip K. Dick, Robert Foster, Carlton L. Frederick, W. Paul Ganley (Fan-Fare), Andrew Garrison, Jack Gaughan, Al HaLevy (Rhodomagnetic Digest), Russell J. Handelman, Ben Indick (Ibid), Marsha Jones, S. T. Joshi, Clyde Kilby, Tim Kirk, Fred Lerner, Tamar Lindsay, Liz Lokke, Patricia Shaw Mathews, Michael Moorcock (A Fanzine Called Eustace, Typo), Sam Moskowitz (Different), Ray Nelson, Jack Newkom, Andrew Offut, Alexei Panshin, Cory Seidman Panshin (The Proper Boskonian), Diana Paxson, Emile Petaja, Stephen Pickering, Dick Plotz, Jerry Pournelle, Dave Thewliss, Dana Warren, Grace Warren, Ted White (Stellar), Edward Wood, and Roger Zelazny.
Poetry was by E.E. Evers, Diana L. Paxson, and Felice Rolfe.
Featured were interviews with Darrell Schweitzer, among others. Also featured was artist Hannes Bok, with reprints of his art work and articles on him by Avram Davidson, Grania Davidson, Jack Gaughan, and Emil Pataja.
Covers were by Vaughn Bode, John Boland, Jerry Burge (Si-Fan), Larry Dickison, Diana Paxson, Dennis Smith, and others, with illustrations by Dan Adkins (Sata Illustrated), Astrid Anderson, Poul Anderson, Vaughn Bode, Harry Douthwaite, Pierre Fournier, Jack Gaughan, Robert E. Gilbert, Barry Greene, Jack Harness, Terry Jeeves (ERG), Larry Kafka, Tim Kirk, Dave Locke (Awry), Ken De Maiffe, Ray Nelson, Andrew Porter (Algol), Glenn Primm, Bill Reynolds, Felice Rolfe, William Rotsler, Richard P. Schultz (En Garde), Randy Scott, Dennis Smith, Diane Studebaker, Dave Thewliss, ATom (The ATom Anthology), Bjo Trimble (Shangri L'Affaires), and Bernie Zuber.
Letters came from Robert Bloch, Rick Brooks (Nargothrond), Dean Dickensheet (Tantalus), John Foyster (Australian Science Fiction Review (second series)), Banks Mebane, Archie Mercer (Vector), Leland Sapiro (Riverside Quarterly), Roy Tackett, and Harry Warner, Jr. (Horizons), among many others.