SH - sf Fanthology
From ZineWiki
Jump to navigation
Jump to search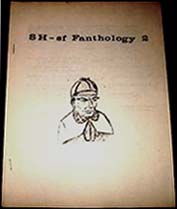 SH - sf Fanthology is a fanzine by Ruth Berman.
First published in Minneapolis, Minnesota, U.S.A. in 1967, The SH - sf Fanthology is an anthology of essays and fan fiction previously published in other fanzines. "SH" stands for Sherlock Holmes, and "sf" stands for science fiction. The first issue straightforwardly focused on Sherlock Holmes, with the succeeding issues featured more 'cross-over' material.
The first issue features writing by Robert Bloch, John Boardman, Dean Dickensheet (Tantalus), Dick Eney (A Sense Of FAPA), Dean Grennell (Grue), Richard Lupoff (Xero, Horrib) and Bruce Pelz.
Issue 2, which was printed in 1971, features writing by Dean Dickensheet (from No), Doug Hoylman (from The Proper Boskonian), Edward Ludwig (from Inside), and John White (from Fistula).
Issue 3 was released in 1972, with contributions from Ruth Berman (from Oziana), Richard Lupoff (from Pok-Pik '66 Souvenir Booklet), Priscilla Pollner (from Son of a Beech), and Mary Ellen Rabogliafti (from Despatch).
Other contributors included Eleanor Arnason (All Mimsy), Al Kuhfeld, Tom Walker, Jon Wilmunen, and Ron Whyte (All Mimsy).
Ruth Berman also contributed to the Baker Street Journal (March 1963), devoted to the study and appreciation of Sherlock Homes.
In the late 1950s, Ruth Berman had published All Mimsy with Eleanor Arnason and Ron Whyte. In the early 1960s, Ruth Berman did the fanzines NeoLithic, Dinky Bird, Nous, No, and Pantopon, and in the late 1960s, the media science fiction fanzines Despatch, Inside Star Trek, T-Negative, and The Star Trek Songbook.
External Links