Fan-Fare (U.S.A.)
From ZineWiki
Jump to navigation
Jump to search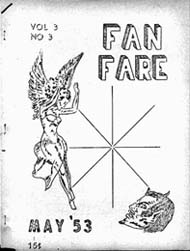 Fan-Fare was a science fiction and weird fiction fanzine by W. Paul Ganley.
The first issue of Fan-Fare was published in 1950 in North Tonawanda, New York, U.S.A. Fan-Fare was published from 1950-1954, reaching at least three volumes of issues.
Contributors included Robert E. Briney (Cataclysm), Alice Bullock (her first appearance in print), Terry Carr (Innuendo), Tom Covington (Bizarre), Don Howard Donnell, Harlan Ellison (Science Fantasy Bulletin), Kenneth J. Krueger (Space Trails, Abortions), Al Leverentz (Grotesque), Jean Reedy, Larry Saunders, J.S. Semens, and George Wetzel.
Verse was contributed by Keran O'Brien, Barbara Church, Raymond L. Clancy, Isabelle Dinwiddie, Andrew Duane (Robert E. Briney), Toby Duane (W. Paul Ganley), Walt Klein, Lilith Lorraine (Challenge, Different, Flame), Orma McCormick (Starlanes), and others.
Art work was contributed by Charles Momberger (Ghuvna).
In the April 2007 issue of el, Mike Deckinger writes about Rog Phillips' fanzine column in Amazing Stories, where W. Paul Ganley wrote in to talk of his fanzine troubles in publishing Fan-Fare,
"Editor W. Paul Ganley submitted the first issue of Fan-Fare, along with a letter detailing the myriad difficulties he encountered in producing the magazine. 'I had everything except ribbons for the hecto, I had to venture forth and purchase carbon papers, when the carbons finally arrived the gelatin had burst, broken, shattered, or whatever verb is most suitable to describe the rending of the film. Another week went by in which I tried three times to remelt the darned stuff. It didn't emerge too good from the heat treatment….' This hapless editor is describing the hectograph, a primitive form of reproduction, probably dating back to the Mesozoic era, which many fans struggled and cursed over."
In the 1950s, W. Paul Ganley also wrote for the pulp science fiction magazines like Amazing, Famous Fantastic Mysteries, and Weird Tales. As well, in 1952 he edited one of the very few early science fiction poetry anthologies, Snowflakes in the Sun, published by SSR Publications.
In the 1970s, he returned to zine publishing with Eerie Country, and Weirdbook, running until 1982, and then Amanita Brandy in the 1980s and throughout the 1990s.
External Links