Mythologies
From ZineWiki
Jump to navigation
Jump to search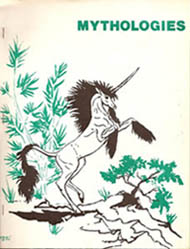 Mythologies was a science fiction and fantasy fanzine by Don D'Ammassa.
Mythologies began in 1974 as a dittoed fanzine. By the fourth issue it was being produced by mimeograph. The last issue #19, was published in 1986.
Contributors of writing included Sue Anderson, Jennifer Bankier (Orca), Mike Blake, Michael Carlson, Avedon Carol (Chuch), Tom Collins (IS), John Curlovich, Tony Dalmyn, Bonnie Dalzell, Dave Driscoll, Chris Eblis, Adrienne Fein, Arthur D. Hlavaty (Disinformation), George Fergus, George Flynn, Jim Goldfrank, Nancy Hussar, Mark M. Keller, John F. Kusske, Sam Long, Patrick L. McGuire, Jerry Pournelle, Evelyn Rogers, Jessica Amanda Salmonson (Windhaven), Judith E. Schrier, Victoria Vayne (Simulacrum, Fanthology 76), and Jim Young.
Featured each issue was a column by Paul Di Filippo called "Arrant Nonsense".
Poetry was contributed by Michael Bishop, Lee Carson, and Bonnie Dalzell.
Contributors of artwork included Beth Cohen, Bonnie Dalzell, Brad W. Foster, David Macaulay, James Odbert, and Taral Wayne (DNQ).
Mythologies won the 1979 FAAn Award for Best Fanzine and, as well, issue 14 of June 1978 won the 1979 FAAn Award for Best Single Issue of a fanzine.