Simulacrum
From ZineWiki
Jump to navigation
Jump to search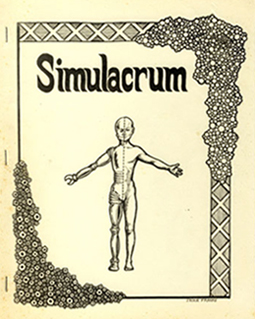 Simulacrum was a science fiction fanzine by Victoria Vayne.
Simulacrum was published in Ontario, Canada. Eight issues were released.
The first issue appeared in June 1975, featuring a front cover by Taral Wayne, and a back cover by Bill Rotsler.
Issue 2 was published in October 1975, followed by issue 2.1 in March 1976, and 2.2 in August 1976
Issue 3, which was also issue 6, of October 1976, featured a front cover by Stuart Gilson, and included the poem "The Evil Eye" by Jessica Amanda Salmonson (Windhaven), and a review by Douglas Barbour of "The Martyrology Books I & 2" by bp Nichol.
Covers were by Taral Wayne (#1), Derek Carter (#2), Stuart Gilson (#3), Jackie Franke (Resolution) (#7), and Barry Kent McKay.
Contributors of art work included Jim Barker, Harry Bell (Grimwab), Derek Carter, Alexis Gilliland, Stuart Gilson, Andy Porter (Algol), Bill Rotsler, Stu Shiffman, and Taral Wayne.
Contributors of writing included Don D'Ammassa (Mythologies), Douglas Barbour, Ben Indick (Ibid), Jessica Amanda Salmonson, Al Sirois, Taral Wayne, and Janet Wilson.
The last issue, issue 8, released in December 1978, was "The Doomsday Issue". It featured articles by Victoria Vayne, Don D'Ammassa, Ben Indick Al Sirois and Taral Wayne, among others, and artwork by Jim Barker, Harry Bell, Alexis Gilliland, Andy Porter, Bill Rotsler, Stu Shiffman, and Taral Wayne.
The article "But What About Photosynthesis" by Janet Wilson was reprinted in the anthology Toronto the Ghood, edited by Taral Wayne.
Victoria Vayne was also the editor of the anthology Fanthology 76, and co-editor of the fanzine DNQ with Taral Wayne.