Si-Fan
From ZineWiki
Jump to navigation
Jump to search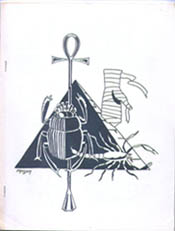 Si-Fan was a science fiction fanzine published by Gerald "Jerry" Page and Jerry Burge.
The first issue of Si-Fan appeared in 1959. It was published in Atlanta, Georgia, U.S.A. Issue 3 appeared in 1960 and #4 in 1961. Some early issues were distributed by the Southern Fandom Press Alliance APA.
Contributions included articles by Allen Baes, Ted Brooke, Alan Burns, "The Fantasy of Science Fiction" by Calvin Beck (The Science Fiction Critic), a profile of Sam Moskowitz (editor of Helios, Different, and New Fandom) by Ed Wood; the story "Independence" by David H. Keller; and "Notes of a Pulp Collector" by Bernie Wermers.
Art work was contributed by Robert E. Gilbert, Andrew J. Offutt, Dave Prosser, Nancy Share (Ignatz, Torrents), Bo Stenfors, and Maggie Thompson (Comic Art), with cover art by Jerry Burge and Dave Prosser.
Letters came from Redd Boggs (Sky Hook), Robert 'Buck' Coulson (Yandro), Bob Shaw, Bob Tucker (Le Zombie), Donald Wollheim, Harry Warner, Jr. (Horizons) and Floyd Zwicky.
Jerry Burge had previously been the Art Director for Cosmag.
Both men collaborated again on the science fiction collector's fanzine Lore, and then years later also did a fan journal for pulp collectors called Flashback. With John Campbell as publisher, Gerald Page as Editor and Jerry Burge as Art Editor the three men put out 10 issues of Witchcraft and Sorcery from 1969 till 1974.
Gerald Page was editor of DAW Books anthology The Year's Best Horror Stories from 1976 till 1979 and published many short stories. In the 1980s he did the fanzine Blazing Armadillo Stoires.