Sata Illustrated
From ZineWiki
Jump to navigation
Jump to search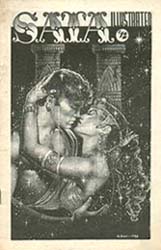 Sata Illustrated was a science fiction fanzine by Bill Pearson and Dan Adkins.
The first issue appeared in 1956. It was reproduced using a ditto machine. Sata featured weird fiction, comics, and illustrations, with an emphasis on lots of Illustrations, since both editors were artists. After 6 issues had been released Adkins left the zine and Pearson carried on without him. 15 issues were released, the last in February 1964.
Contributors included Richard Bassford, Roger Benson, Roger Brand, Ray Capella, Tom Conroy, Alan Dodd (Camber), Claude Hall (Muzzy), Roy Krenkel, and others.
Fiction was by Bob Leman, Charles L. Morris, and Bob Warner, among others. Articles were by Larry Shaw (Leprechaun, Science*Fiction, Axe), among others.
Artwork was contributed by Esmond Adams, George Barr, Robert E. Gilbert, Larry Ivie, Ken Kellard, Bill Pearson, Andy Reiss, and others.
Letters came from Harvey Kurtman, among others.
On his website, Steve Stiles writes; "Perhaps few people remember Dan's activities in s.f. fanzine fandom, but in the late fifties he and Bill Pearson were producing the most attractive dittoed fanzine, Sata Illustrated, that I've ever seen --a fanzine that was instrumental in getting me into fandom."