Axe
From ZineWiki
Jump to navigation
Jump to search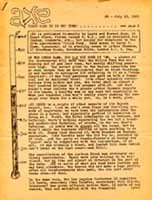 Axe is a science fiction fanzine by Larry Shaw (1924-1985) and Noreen Shaw (1930-2005).
Published in the U.S.A in the 1960's, Axe was nominated for a Hugo Award for Best Fanzine in 1962.
Axe began life on Staten Island, New York, U.S.A. in April 1961 as a newssheet dedicated to to bringing Hyphen editors Walt Willis and Madelaine Willis to the U.S.A. for the 1962 Worldcon, the 10th Anniversary of their first trip to the U.S.A. The 'WAW Fund', which stood for Willis at Worldcon, was a success, and the editors decided to keep publishing Axe as a general interest fanzine after they moved to Evanston, Illinois.
Contributions included writing by William Atherling (James Blish), fanzine reviews by Terry Carr (Entropy, Lighthouse), writing by Sid Coleman, fanzine reviews by Richard Lupoff (Xero), movie reviews by Bhob Stewart, and writing by Walt Willis.
Noreen Shaw, as Noreen Falasca, had previously co-published Devil's Motor Boat with Nick Falasca.
Larry Shaw had previously published Leprechaun, followed by Science*Fiction, co-published with Dan and Judy Zissman, later known as Judith Merril, in the 1940s.