The Punk-Surrealist Cafe
From ZineWiki
Jump to navigation
Jump to search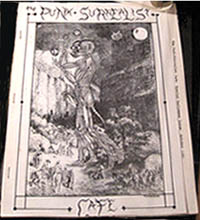 The Punk-Surrealist Cafe is a zine by G. Sutton Breiding.
The first issue of The Punk-Surrealist Cafe was published in 1980 in San Francisco, California, U.S.A. Issue 6 appeared in October 1981.
Contributors included D.S. Black.
Issue 6 was the 'Special Hallowe'en Issue', and included the prose poem "Charnel House of the Moon by Thomas Ligotti, as well as contributions by Andrew Darlington (Ludd's Mill), Laura Harris, Leavenworth Jackson, Harry O. Morris (Nyctalops), Chris Pasanen, Tina Said, and Steve Verba.
The darkly erotic and arabesque art work of Mahlon Blaine (1894-1969) was also featured.
The Punk-Surrealist Cafe was on display in the October, 2009 exhibition Punk Passage: San Francisco First Wave Punk at the San Francisco Public Library.
G. Sutton Breiding had previously published the fanzines Black Wolf and Ebon Lute in the 1970s, and Ab-Satthaqua for the Esoteric Order of Dagon.
External Links