Nyctalops
From ZineWiki
Jump to navigation
Jump to search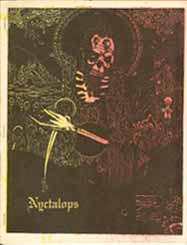 Nyctalops was a fanzine edited by Harry O. Morris and Edward Paul Berglund published in the 1970s and 1980s.
Nyctalops is devoted to H. P. Lovecraft and his circle, Clark Ashton Smith, and Robert Bloch. It is an 8.5 X 11" publication of approximately 100 pages that was published in Albuquerque, New Mexico, U.S.A. The first issue appeared in May 1970. Nyctalops was initially published solely by Morris and consisted of literary criticism, but after issue three he asked Edward Berglund to become fiction editor for the zine and commencing with issue four the fanzine included fiction. The two editors worked together for seven more issues, with nineteen issues released in all.
Contributors included Michael A. Aquino, Robert Bloch, Bernadette Bosky, G. Sutton Breiding (Ebon Lute, The Punk-Surrealist Cafe), David J. Brown, Ramsey Campbell, Thomas G. Cockroft, Walter C. DeBill, Jr., Gary Drake, Denise Dumars, Thomas M. Egan, Steve Eng, R. Alain Everts (The Outsider), Kenneth W. Faig, Jr., Donald Sidney-Fryer, Mike Glyer (File 770), Charles Richard Grose, Alan D. Gullette, Gary Harrison, Don Herron, William Scott Home, Richard Huber, John Jacob, S.T. Joshi, John Koblas, George Laking, Joel Lane, James Lawson, Thomas Ligotti, Brian Lumley, Rob Hollis Miller, Dirk W. Mosig (The Miskatonic), Joe Moudry, Will Murray, Dale Nelson, Gerald W. Page (Si-Fan), Jim Pianfetti, Ted Pons, E. Hoffman Price, Robert M. Price (Crypt of Cthulhu, Cthulhu Codex), Graham Pryor, W. Pugmire (Midnight Fantasies, Old Bones, Visions of Khroyd'hon), Glen Rahman, Phyllis Rose, Sam Sackett (Fantastic Worlds), Jessica Amanda Salmonson (The Literary Magazine of Fantasy and Terror, Fantasy Macabre), Lewis Sanders, Jacqueline Schafer, David E. Schultz, Darrell Schweitzer, Vernon Shea, Patti Smith, James Taylor, Stephen Verba, Bruce Walker, William Wallace, George Wetzel, Neal Wilgus, and Billy Wolfenbarger.
Also included were reprints of the writing of Robert E. Howard, Frank Belknap Long, and Clark Ashton Smith, among others.
Artists included Herb Arnold, Thomas G.L. Cockroft, Mike Garcia, Mark Gelotte, Brad Foster, Tim Kirk, Jim Pitts, Steve Riley, Denis Tiani, Helmet Wenske, and Walt Simonson. Reprints of the art work of Clark Ashton Smith were also featured in the Clark Ashton Smith memorial issue, #7.
Harry O. Morris also published the apazine Nocturne for the Esoteric Order of Dagon.
Issue 1
Nyctalops #1 was published in May 1970. It contained the essay The Strange Lands of Clark Ashton Smith by Harry Morris. The issue had 12 pages. There were 100 copies printed.
Issue 2
Nyctalops #2 was published in October 1970. The issue had 24 pages.
Contents
Eddy C. Bertin. H.P. Lovecraft Did Not Write SF... By His Own Standards (article) p. 3
Robert Weinberg. Robert E. Howard and the Cthulhu Mythos (essay) p. 6
Harry Morris. H.P. Lovecraft: A Story Listing (Part 1 of 3) p. 7
Issue 3
Nyctalops #3 was published in February 1971. The issue had 30 pages.
Contents
Harry Morris. Lovecraft on Tape (article) p. 3
Eddy C. Bertin. H.P. Lovecraft: The Critics (article) p. 4
Edward P. Berglund. Further Addenda to H.P.L. Story Listing p. 8
Harry Morris. H.P. Lovecraft: A Story Listing (Part 2 of 3) p. 9
A Listing of Some Lovecraft Manuscripts p. 13
Eddy C. Bertin. The Walkers (poem) p. 14
Issue 4
Nyctalops #4 was published in June 1971. The issue had 44 pages.
Contents
Eddy C. Bertin. The Cthulhu Mythos: A Review and Analysis p. 3
Walter C. DeBill, Jr.. R'lyeh (poem) p. 7
Kenneth Scher. You Can't Tell the Players Without a Program (essay) p. 8
Edward P. Berglund. Addenda to H.P.L. Story Listing p. 21
Harry Morris. H.P. Lovecraft: A Story Listing (Part 3 of 3) p. 25
James H. Lawson, IV. Perhaps the Elder Gods (story) p. 28
Issue 5
Nyctalops #5 was published in October 1971. It had 62 pages.
Contents
Robert Weinberg. H.P. Lovecraft and Psuedomathematics (essay) p. 3
Eddy C. Bertin. The Followers of Cthulhu (article) p. 5
Edward P. Berglund. Addenda to H.P.L. Story Listing III p. 13
Eddy C. Bertin. Something's Eating My Brain (poem) p. 17
George Laking. The Well (poem) p. 18
Dave Szurek. The Frog at Midnight (poem) p. 19
Steve Eng. The Elder Fear (poem) p. 19
Richard L. Tierney. The Garret-Room (poem) p. 19
Daniel K. Shenandoah. What Scared Professor Peaslee? (article) p. 20
John Jacob. And When Blood Touches Blood... (story) p. 22
Kenneth W. Faig, Jr.. The Lovecraft Fiction Manuscripts: A Listing (Part 1 of 2) p. 28
Edward P. Berglund. Foreign Publication of Howard Phillips Lovecraft (article) p. 42