Midnight Fantasies
From ZineWiki
Jump to navigation
Jump to search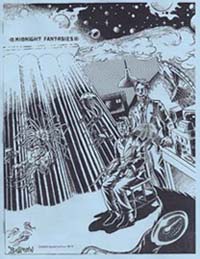 Midnight Fantasies is a zine by Wilum Pugmire.
Midnight Fantasies was published in the mid 1970s in the U.S.A. It was a combination of fiction, poetry, non-fiction, artwork and material about horror films. The first issue appeared in 1973, the second in 1974, and the third in 1976. A fourth issue was mentioned (dedicated to Arkham House / Donald Wandrei / August Derleth) but due to the long delay between #2 and #3 it looks like this issue was actually published as #3 and the material originally intended for it was printed in various other zines instead. However there were also a zero issue (a test run for issue one), an issue two & one-half (contents unknown), and the Midfan Supplement (which contained some of the pages originally intended for issue three).
Contributions include a reprint of an editorial on H. P. Lovecraft by Robert A. W. Lowndes, "Near the Crypt" by Jessica Amanda Salmonson, editor of The Literary Magazine of Fantasy and Terror, "Melmoth the Wandrei" by J. Vernon Shea, an appreciation of Donald Wandrei by Robert Bloch, and an article about Brian Lumley by the editor.
Covers and other artwork were contributed by Dave Billman, M. Squidd and Wilum Pugmire.
Midnight Fantasies is the first of a few of the zines devoted to horror, H. P. Lovecraft, and the Cthulhu Mythos, that Wilum Pugmire has released. He also published the fanzines Old Bones and Visions of Khroyd'hon in the 1970s, and Punk Lust in the 1980s. In the 2000s, he released the titles Idiot Chaos and Lovecraftian Euphoria for the Esoteric Order of Dagon, an APA devoted to Lovecraft.
Issue 0
Midnight Fantasies #0' was a zine-length advertisement for the new zine. It included the cover for the issue #1 by Dave Billman, editorial by Wilum Pugmire with an art by M. Squidd, some photos of the editor, ads for the zines from the Silver Scarab Press and the movies The Mummy's Shroud (by the artist Ludwig) and Hush... Hush, Sweet Charlotte, a comic by Scott and some horror art by Murad Gumen.
Issue 1
Midnight Fantasies #1 was published in August 7, 1974.
Contents
Gently Rapping by Pugs [introduction by Wilum Pugmire] (1)
Editor's Page by Pugs [editorial by Wilum Pugmire] (2)
Special Introduction by Robert A. W. Londres [essay about Lovecraft from one of his latest correspondents] (3-6) (originally published in Magazine of Horror #24, November 1968)
A Few Words by Brian Lumley [interview] (7-8)
Gently Rapping by Pugs [reviews of horror zines and a Barbra Streisand movie, information about the zine artists] (9-12)
Issue 2
Midnight Fantasies #2 was published in September 1974.
Contents
Gently Rapping by Pugs (1-2)
An Interview with Harry Morris, Jr (3-4)
The Cinema of H. P. Lovecraft by Brian G. Wise [article] (5-9)
Closing Comments by Bill Pugmire Jr (10)
Midnight Fantasies: An Announcement
Midnight Fantasies: An Announcement was published in October 1974 (the date was written as 1774). In the two-page announcement, the editor explained that the issue #3 would be delayed, described the content of the next issues and promised not to publish photos of Streisand in the zine anymore ("before I get lynced by certain Barbra-haters within my readership"). The cover was created by Dave Billman.
Midfan Supplement
Midfan Supplement was published in April 1975 (the written date was April 1775). The editor cited financial difficulties as the reason for delaying the issue #3, but explained that "I cannot leave you waiting without giving you something to chew on, and so I am publishing this supplement issue, taking part of #3 and placing it herein"
Contents
"Esteem'd Readers" by Wilum [editorial] (1-2)
The Harvest [letters of comment] (3)
Haunter of the Screen by Kelly Westfall [review of the movie "Let's Scare Jessica to Death"] (4-7)
At Journey's End by Richard Smoot [short story] (8-9)
Val Vocalizes by Valerie Macbeth [essay] (10)
Issue 3
Midnight Fantasies #3 was published in May 1976 (the written date was May 1776).
Contents
"My Dear Youngsters..." by Wilum [editorial] (1-2)
Melmoth the Wandrei: the Keeper of Secrets by J. Vernon Shea [article about Donald Wandrei] (3-5)
In Appreciation: Donald Wandrei by Robert Bloch [article] (6)
Arkham Excavations by Neal Wilgus [poems] (7)

The Outsider [poem] (7)
Strange Gateways [poem] (7)
Pleasant Dreams [poem] (7)
This Mortal Coil [poem] (7)

The Necessity for Objectivity by J. Vernon Shea [essay] (8)
Brian Lumley, Esq.: the New Lovecraftian by Simon Gregory Williams [article] (9-13)
Whut is a Black Oracle? by George Stover [zine ad] (13)
Near the Crypt by Jessica Salmonson [poem] (14)