Black Oracle
From ZineWiki
Jump to navigation
Jump to search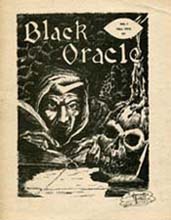 Black Oracle is a fanzine published by George Stover devoted to horror films.
The first issue of Black Oracle was released in 1969 and it was published till 1978. Ten issues were produced during this time.
Contributors included Dave Aquino, Marc Cassino, Steve Vertlieb, among others.
Featured were interviews with Forrest J. Ackerman (Voice of the Imagi-Nation, Novacious) and Robert Bloch, film stills and movie reviews. Aside from this, Stover sold novelty items that he had made himself, such as 'Bloody Hair Hunks' in a plastic bag, for 25 cents in the back pages of the zine.
Low budget film director Don Dohler read about George Stover's zine in a local paper and tracked him down. The two became friends, with Stover performing in all of Dohler's horror and science fiction films, such as The Alien Factor, Blood Massacre, Fiend, Nightbeast, Galaxy Invader, Harvesters, Alien Rampage, Stakes, and Vampire Sisters. However, Stover may be better known as one of John Water's repertory players, making his screen debut in Female Trouble.
External Links