Cthulhu Mythos
From ZineWiki
Jump to navigation
Jump to search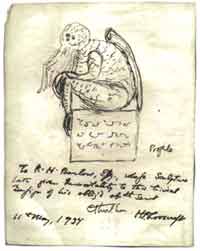 The Chtulhu Mythos is named for Cthulhu, a fictional cosmic entity created by author H. P. Lovecraft in 1926. The first appearance was in the short story "The Call of Cthulhu" published in Weird Tales in 1928.
Cthulhu is often cited for the extreme descriptions given of its hideous appearance, its gargantuan size, and the abject terror that it evokes. A drawing of Cthulhu by Lovecraft was presented to R.N. Barlow, editor of Leaves, giving us some idea of the writer's concept.
August Derleth, a correspondent of Lovecraft, used the creature's name to identify the system of lore employed by Lovecraft and his literary successors, the Cthulhu Mythos. H.P. Lovecraft himself, however, never used the term Cthulhu Mythos, nor did he acknowledge any individual distinctions among his stories. Nonetheless, Lovecraft undoubtedly recognized an underlying unity of certain imagined settings and deities in his tales, though the closest he ever came to naming this collective world was the Arkham cycle (after the main fictional town) or Yog-Sothothery (after one of the primary gods).
Cthulhu Mythos has become a term used by writers and critics to describe those authors using elements originally featured in Lovecraft stories, or featuring a relationship to one of Lovecraft's characters, locations or gods. Others prefer to use the term "Lovecraftian".