Leaves
From ZineWiki
Jump to navigation
Jump to search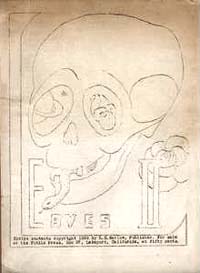 Leaves was a fanzine devoted to weird fiction edited by Robert H. Barlow.
Two issues of this mimeographed publication were released, the first in Summer 1937 and the second in 1938. It was published in Leavenworth, Kansas, U.S.A.
The contributors included H. P. Lovecraft, A. Merritt, Edith Miniter (The Aftermath), Clark Ashton Smith, and other writers of weird fiction. Issue one featured the short story The Third Episode of Vathek by Clark Ashton Smith. Leaves issue two featured the first publication of the six page story, "Collapsing Cosmoses" by Barlow and Lovecraft.
Barlow began corresponding with Lovecraft when he was a teenager. He later collaborated with Lovecraft on six stories, and they had visited with each other for extended periods of time to work together. Barlow was interested in publishing and attempted to bind and distribute Lovecraft's The Shunned House (1928), but could get only a few copies done. More successfully, he released two issues of the amateur press publication The Dragon-Fly in 1935 and 1936, which were followed by the two issues of Leaves. Under his imprint Dragon-Fly Press, he released the first verse collection by Frank Belknap Long, The Goblin Tower, and The Cats of Ulthar by Lovecraft. He was interested in the fanzines that were being released in this period and contributed to several, including Marvel Tales, The Fantasy Fan, Science-Fantasy Correspondent, Science Fiction Advance, Supramundane Stories, Tesseract, and Unusual Stories.
Lovecraft named Barlow his literary executor before he died in 1937. In 1943 Barlow moved to Mexico, where he was a professor of anthropology, He released several poetry books there, and a memoir of Lovecraft, The Wind That Is In The Grass. He committed suicide on January 1, 1951.