Supramundane Stories
From ZineWiki
Jump to navigation
Jump to search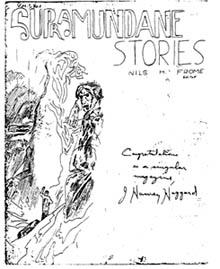 Supramundane Stories is a science fiction fanzine by Nils Helmer Frome published in British Columbia, Canada.
Supramundane Stories is believed to be either the first or the second Science Fiction zine to ever appear in Canada (the first is reported to be The Canadian Science Fiction Fan in 1936, but this could be an error). The first issue was published by a 19 year old Frome in January 1937 and was made using a multigraph machine sold to him by C. Hamilton Bloomer, editor of Tesseract. It contained fiction by Lionel Dilbeck and a poem by J. Harvey Haggard, and well as Frome's own writing. Each issue was entirely different with covers and illustrations done by hand by Frome.
The second issue appeared in March 1938. By this time, Nils Helmer Frome had begun to correspond with H. P. Lovecraft, and Lovecraft had sent him the story "Nyarlathotep", and the short article "Notes on Writing Weird Fiction", for this issue. Also appearing is Clark Ashton Smith's poem Alienation, suggested by Lovecraft. Frome printed all of these contributions. This was the last issue of Supramundane Stories.
Contributors to Supramundane Stories were H. P. Lovecraft, Lionel Dilbeck, J. Harvey Haggard, Duane Rimel, and Clark Ashton Smith. Only these two issues were ever published, although Frome subseguently published one issue of Fantasy Pictorial, and remained active in science fiction fandom clubs and circles. Nils Frome was also a contributor to the later 1940's Canadian SF fanzines Canadian Fandom and Light and, with Sam Moskowitz as his agent, to a number of American fanzines also.
External Link