Light
From ZineWiki
Jump to navigation
Jump to search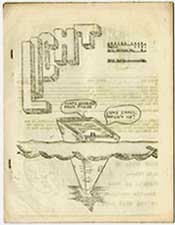 Light was a fanzine by Leslie Croutch of Parry Sound, Ontario, Canada.
Leslie Croutch began publishing in the late 1930s under the name Croutch Magazine Market News, which was then shortened to Croutch News, and finally changed altogether to Light. Light was first published in 1941 and continued to be released for three decades. Leslie Croutch was a self employed radio and television repairman, working from home, and was active in the National Fantasy Fan Federation, and Light was a Science Fiction fandom fanzine. It was also a regular zine for the FAPA.
Leslie Croutch has been credited with writing the first article to appear about sf writer A. E. van Vogt, which was published in Light in 1942.
Light included the work of Bob Gibson, who did on-stencil covers for every other issue of the zine, alternating with John Cockcroft. The exceptions were the covers done by Nils Helmer Frome (Supramundane Stories), who did the artwork for the cover for the February 1942 issue, and the cover for the April 1942 issue. Light also included illustrations by Charles McNutt (a.k.a. Charles Beaumont) (Utopia) and Gordon Peck.
Contributors of writing included Forrest J. Ackerman (Voice of the Imagi-Nation), Ray Bradbury (Futuria Fantasia), John Russell Fearn, David H. Keller, Norman V. Lamb, Michael Rosenblum (Futurian War Digest), Art Widner (FanFare), and Donald Wollheim (The Phantagraph).
Contributors of poetry included Hyacinthe Hill (as Virginia Anderson), among others.
Light has a large letters section which included correspondence from Robert Bloch, Barbara Bovard, David Keller and others.
External Link