The Fantasy Fan
From ZineWiki
Jump to navigation
Jump to search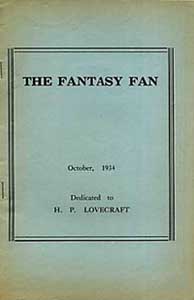 The Fantasy Fan was a fanzine by Charles D. Hornig published in the 1930s in Elizabeth, New Jersey, U.S.A.
Charles Hornig began The Fantasy Fan at seventeen and published his first issue in September 1933. It is regarded as the first fanzine in the weird fiction field. It featured articles, news, fiction, poetry and letters. Although it had a small print run of 300 copies, it attracted the premier fiction writers of the day - H. P. Lovecraft, Clark Ashton Smith, Robert Bloch, Robert H. Barlow (Leaves), David H. Keller, and Robert E. Howard. These same contributors were also letter writers to the fanzine and frequently argued with one another in the section called "The Boiling Point". It also included a column entitled "Within the Circle" by F. Lee Baldwin (later editor of The Star Rover) that was devoted to their activities.
The Fantasy Fan also included contributions by Forrest Ackerman (Imagination!), Lester Anderson, Fred Anger, Eando Binder, Lionel Dilbeck, August Derleth, Marianne Ferguson, Allen Glasser (The Time Traveller), J. Harvey Haggard, Virginia Kidd (later editor of Snarl and Kinesis), H. C. Koenig (The Reader and Collector), William Lumley, Don Moore, Robert Ely Morse, Robert Nelson, Emil Petaja (Brief Candle), Kenneth B. Pritchard, Duane Rimel, Walt Z. Russjuchi, Richard F. Searight, P. J. Searles, Louis C. Smith, who had the regular column "Gleanings", Bob Tucker (editor of Le Zombie), Natalie H. Wooley, and included news items on weird writing by Julius Schwartz and Mortimer Weisinger (editors of Science Fiction Digest).
Artwork was by Clay Ferguson, Jr.
Letters came from Chester Cuthbert, Ralph Milne Farley, and Carl J. Smith.
After 18 issues had been released, the last issue was published in February 1935. There was talk of reviving it, with Lovecraft as editor, but it did not come to pass.