Kinesis
From ZineWiki
Jump to navigation
Jump to search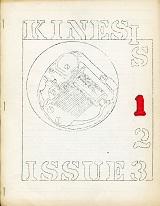 Kinesis was a poetry zine edited and published by Virginia Kidd from Milford, Pennsylvania, U.S.A.
Kinesis ran 3 issues from February 1969 to December 1970.
Contributing poets included Beth Blish, James Blish (The Planeteer), Doris Pitkin Buck, Bob Conlon, Chandler Davis, Thomas M. Disch, Sonya Dorman, Karen Emden, Carol Emshwiller, B.K. Filer, Marilyn Hacker, Richard Hill, Felicity Joinston, Virginia Kidd, Damon Knight (Snide), R.A. Lafferty, Richard Latta, Ursula K. Le Guin, John Frederick Moses, Kris Neville, Harlan Ristau, Joanna Russ, John M. Walter, and Gene Wolfe.
Virginia Kidd had earlier published the fanzines Snarl, an apazine she did for Vanguard Amateur Publishing Association in the late forties, and Discrete, among others.