Snide
From ZineWiki
Jump to navigation
Jump to search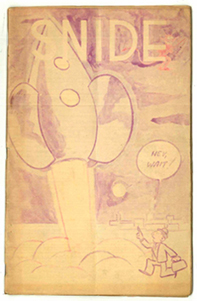 Snide was a science fiction fanzine edited by Damon Knight from Hood River, Oregon, U.S.A.
The first issue appeared in May 1940, and ran to 40 digest-sized pages. A 2-page version, numbered 1A, was distributed with the Denventioneer combozine in early 1941.
The second, and final, issue, co-edited with Bill Evans (Fanzine Index), came out in February 1941. It contained prose by Ray Bradbury (Futuria Fantasia), Robert W. Lowndes (Snark, Vision, Le Vombituer), and Richard Wilson (The Atom, Escape, The Science Fiction News Letter), and poetry by Jack Erman, and Harry Warner, Jr. (Spaceways).