Old Bones
From ZineWiki
Jump to navigation
Jump to search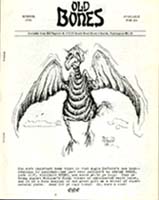 Old Bones was a fanzine by Wilum Pugmire.
Old Bones was published in Seattle, Washington, U.S.A. At least three issues were printed, the first was dated Candlemas 1775, the second Summer 1775, and the third Summer 1776, but these zines were actually released in 1975 & 1976.
It includes fiction and articles by Jessica Amanda Salmonson, editor of The Literary Magazine of Fantasy and Terror; a report on the latest Arkham House publications release, Dwellers In Darkness by August Derleth; and "From Ye Journal of William Davis Manly", by the infamous poet of Sesqua Valley, William Davis Manly.
"From Ye Journal of William Davis Manly" is recognized as a part of the chronology of the Cthulhu Mythos.
Old Bones was included in the apazine Esoteric Order of Dagon Mailings.
Wilum Pugmire also published the fanzines Midnight Fantasies and Visions of Khroyd'hon in the 1970s, and Punk Lust in the 1980s. In the 2000s, he released the titles Idiot Chaos and Lovecraftian Euphoria for the Esoteric Order of Dagon, an APA devoted to Lovecraft.