Crypt of Cthulhu
From ZineWiki
Jump to navigation
Jump to search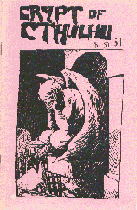 Crypt of Cthulhu is a literary zine devoted to the works of H. P. Lovecraft and his circle, and the Cthulhu Mythos.
First released by Robert M. Price on Hallowmas, 1981, Crypt of Cthulhu presented essays, articles, interviews, reviews, research, news items, fiction, poetry, and more. It was published for twenty years, first in Bloomfield, New Jersey, and then, as of issue #34, in Mount Olive, North Carolina, U.S.A. and featured contributions by many notable writers and artists. The final issue, #107, was published for Eastertide 2001.
Contributors of writing included Steve Behrends, E.P. Berglund (Nyctalops), Eddy C. Bertin (Dunwich Dreams), Leigh Blackmore, Carolyn L. Boyd, Scott D. Briggs, Donald R. Burleson, Ramsey Campbell, Peter Cannon, Lin Carter (Spaceteer), Marc A. Cerasini, T. G. Cockcroft, Mary Elizabeth Counselman-Vinyard, Andrew Darlington (Ludd's Mill), L. Sprague de Camp, Donna Death, Stefan Dziemianowicz, Jason Eckhardt, Kenneth W. Faig, Jr., Michael Fantina, William Fulwiler, W. Paul Ganley (Eerie Country), Charles Garofalo, John S. Glasby, C.J. Henderson, Don Herron, Ben P. Indick (Ibid), Tani Jantsang (Cthulhu Cultus), P.F. Jeffery, S.T. Joshi, T.E.D. Klein, Randall Larson (Threshold of Fantasy), Fritz Leiber, D.F. Lewis (Nemonymous), Thomas Ligotti, Robert W. Lowndes, Brian Lumley, Marcia McEwen, Dirk W. Mosig (The Miskatonic), Sam Moskowitz (Different), Will Murray, Gary Myers, Fred L. Pelton, Robert M. Price, Wilum Pugmire (Punk Lust, Queer Madness, Idiot Chaos), Joseph S. Pulver (Cthulhu Codex), Brett Rutherford, David E. Schultz, Ann K. Schwader, Julius Schwartz, Darrell Schweitzer, Carol Selby, David Sutton, Steve Rasnic Tem (Umbral), Richard L. Tierney, Ralph E. Vaughan, Don Webb, and Helen V. Wesson (The (Unspeakable) Thing).
Crypt of Cthulhu also featured reprints of work by Robert H. Barlow (Leaves), Robert Bloch, Hugh B. Cave, Fred Chappell, Adolphe de Castro, August Derleth, Henry Hasse, Robert E. Howard, Carl Jacobi, Henry Kuttner, Francis T. Laney (The Acolyte), Frank Belknap Long, H. P. Lovecraft, Samuel Loveman, Maurice W. Moe, E. Hoffman Price, Gerry de la Ree (Clark Ashton Smith - Artist), Duane W. Rimel, Richard F. Searight, Wilson Shepherd (Fanciful Tales of Space and Time), and Clark Ashton Smith.
Contributors of artwork included John Borkowski, Rick Bryant, Michael H. Cline (Ye Yowlings of Yog-Sothoth), Richard Corben, Guy Cowlishaw, Jason C. Eckhardt, Stephan E. Fabian, Jim Garrison, Peter H. Gilmore, Grey Ginter, Chris Gross, D.L. Hutchinson, Allen Koszowski, Robert H. Knox, Larry Latham, L.L. McAdams, Chris Pelletiere, Jim Pitts, Robert M. Price, and Darrel Tutchton.
For a period of time during the 1980s, Crypt of Cthulhu was also included in the apazine Esoteric Order of Dagon mailings.
Robert M. Price also edited Cthulhu Codex.