The (Unspeakable) Thing
From ZineWiki
Jump to navigation
Jump to search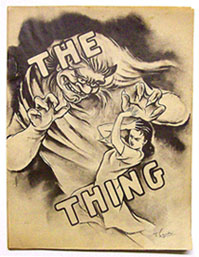 The (Unspeakable) Thing was a science fiction fanzine by Helen Vivartlas Wesson (d. September 7, 2006) and Burton Crane (d. February 1963).
The first issue was published in Spring 1946, in the U.S.A., with the second following in Summer of the same year. Issue three appeared in July 1947. Issue four appeared in January 1950, and issue five in April 1952. The (Unspeakable} Thing was distributed by Fantasy Amateur Press Association and published in such various locales as China, New Jersey, Japan, and New York. Burton Crane co-edited three issues with Helen Wesson.
Artwork was contributed by T. Soyunki.
Fiction was contributed by Duane Rimmel, and articles by F. Towner Laney (The Acolyte). Also included were selections of poetry, reviews, commentary and a letter column.
Burton Crane was a journalist who went to Japan before the war as an editor. While there he also became a popular singer and recording star for Columbia, known as the "Maurice Chevalier of Japan" (F. T. Laney, Ah! Sweet Idiocy! 1948). He left before WWII but immediately after the war he returned as a correspondent for The New York Times. While in Tokyo, aside from co-editing The (Unspeakable) Thing he wrote five plays, which he directed for the Tokyo International Players. When he returned to the U.S. he became editor of The National Amateur for a period of time.
Helen Wesson was first a member, and then President, of AAPA (American Amateur Press Association) and published American Dawn with Erich Werner from 1938 to 1941. Independently she published Siamese Sandpipe with Sheldon Wesson, begun in 1946, of which more than 12 issues appeared. She left AAPA and joined NAPA, where she published five issues of Spigots from 1944 to 1945. After relocating to Japan, where husband Sheldon and co-editor Burton were stationed, she became a correspondent for The Times of India and the Manchester Guardian. Upon her return to the U.S. she co-published two issues of Houri with Bill Price in 1951 and 1952. She also published the fanzine Pendragon for FAPA for many years. She was in the midst of preparing a new issue when she passed away.
Rusty Hevelin, in his FAPAzine H-i661, writes, "Way down in the middle of my prearranged stack I find the best thing in the mailing. This is amateur journalism at its positive zenith as far as fantasy fandom is concerned."