Threshold of Fantasy
From ZineWiki
Jump to navigation
Jump to search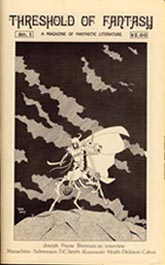 Threshold of Fantasy was a small press publication edited by Randall Larson, and published by Fandom Unlimited Enterprises.
Published in California, U.S.A., Threshold of Fantasy was devoted to fantasy, horror, weird fiction and science fiction. Two issues were released.
The first issue appeared in Spring 1982 from San Jose, California. It featured an interview with Joseph Payne Brennen, editor of Macabre, and Essence. Fiction was by Llewellyn M. Cabos, Larry Dickison, Philip C. Heath, Albert J. Manachino, Jessica Amanda Salmonson (Fantasy Macabre), and David C. Smith.
"Doctor Dexter" by Llewellyn Cabos is considered to be integral to the Cthulhu Mythos.
Art work was by Dan Day, Brad Foster, Jim Garrison, Allen Koszowski, and Ken Raney (Fantasae).
Issue 2, published in Winter 1985/86 in Sunnyvale, California, featured a portfolio of the fantasy art of Rowena Morrill and an interview with the artist, as well as interviews with Robert Bloch, Jessica Amanda Salmonson, and David C. Smith. Writing was by Kevin J. Anderson, E.P. Berglund, Bruce Boston, Larry Dickison, Millea Kenin (Owlflight), Marilyn K. Martin, Elizabeth Massie, Ardath Mayhar, John B. Rosenman, Jessica Amanda Salmonson, David Sutton, B.F. Watkinson, Leilah Wendell, and Ron Wilber. Art work was by Allen Koszowski.
Randall Larson has previously published the fanzine Fandom Unlimited in the 1970s. He is also the author of books on Robert Bloch, and music in horror films, such as Musique Fantastique, and Music from the House of Hammer.