Fantasae
From ZineWiki
Jump to navigation
Jump to search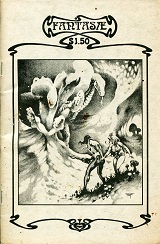 Fantasae was a zine of fantasy-oriented "graphic verse and art" edited by Deborah and Ken Raney in Fort Montgomery, New York, U.S.A.
The first issue was produced in a numbered limited edition of 300 copies, and signed by Ken Raney. Though undated, it appears to have been published in late 1975.
Contributing poets were Jim Copin, Steve Eng (as John Bredon), Don Fioto, Bruce D. Griffiths, Deborah K. Raney, Jessica Amanda Salmonson (The Literary Magazine of Fantasy and Terror), Charles Schneider, and Stephanie Stearns.
Contributions from artists were by Brent Anderson, Clyde Caldwell, Frank Cirocco, Gene Day (Dark Fantasy), Steve Fabian, Dennis Fujitake, Mark Gelotte, Hanther, Gary Kato, Ken Raney, Stanley Sakai, Broc Sears, Bill G. Wilson, and Gary Winnick. Steve Fabian was the cover artist for this issue.