Macabre (U.S.A.)
From ZineWiki
Jump to navigation
Jump to search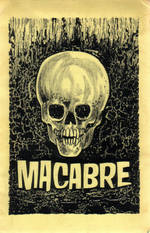 Macabre was a fanzine published by Joseph Payne Brennan in New Haven, Connecticut, U.S.A.
Macabre was founded in 1957 to "work for the revival" of Weird Tales, a Pulp magazine that Brennan had written for. He also wanted Macabre to "serve as a rallying place for all those devoted to horror and the supernatural". Twenty three issues were released, the last one in 1976.
Issues of Macabre included Brennan's "Lucius Leffing" stories, and well as other of his well known stories and articles on H. P. Lovecraft": "Time and Lovecraft" and "Lovecraft on the Subway". The ninth issue (Summer 1961) also featured an article on H.P. Lovecraft by Brennan.
Other contributions included "Wei-Thogga" by Mike Ambrose, "Ice People" by George Dendrinos, "Balthor the Dreamer" by W. Paul Ganley (Eerie Country), "The Floating Coffin" by John Perry, and "Day of Departure" by Frank Sherry.
Other contributors include Ramsey Campbell, Robert Caspar, Lawrence R. Griffin, Helen T. Hill, Leslie Nelson Jennings, Lilith Lorraine (Challenge, Different, Flame), J. Francis Murphy, William J. Noble, Voilet Hiles Ringer, Richard L. Tierney, Lawrence A. Trissel, and Elizabeth Weistrop.
Several stories in Macabre have been cited as essential to Lovecraft's Cthulhu Mythos.
Joseph Payne Brennan also published the poetry fanzine Essence from 1950 to 1977.