Owlflight
From ZineWiki
Jump to navigation
Jump to search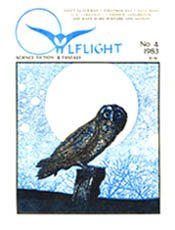 Owlflight was a science fiction, fantasy, and horror fanzine edited by Millea Kenin and published by Unique Graphics.
Released in the 1980s in Oakland, California, U.S.A., five issues of Owlflight were published, featuring fiction and poetry, as well as editorials, reviews, comics, and art work.
The first issue appeared in 1981, and featured fiction by Janet Fox (Scavenger's Newsletter), Sharon Lee, Ardath Mayhar, Steve Miller, Gene O'Meill, Jessica Amanda Salmonson (Fantasy Macabre), David L. Travis, and Lois Wickstrom (Pandora). Poetry was by Joey Froehlich, Scott E. Green, and Morgan Griffith. Artists featured included Frank Albanese, Lisa Free, Millea Kenin, Randy Moore, Melody Rondeau, and Michael Roden, with a collage story.
Issue two, also from 1981, included fiction by Bruce Boston, C. Bruce Hunter, Sharon Lee, Jean Lorrah (Pandora), Gene O'Neill, David Prill, Ralph Roberts, Jessica Amanda Salmonson, David B. Silva, and Steve Rasnic Tem (Umbral). Poetry was by Michael R. Collings, S.R. Compton, Keith Allen Daniels, Robert Frazier (Speculative Poetry Review, Star*Line), Scott E. Green, Randall Larson (Threshold of Fantasy), D.M. Vosk, Thomas Wiloch, and Billy Wolfenbarger. Art work was by Lisa Free, Melody Rondeau, Kiel Stuart, Hans-Peter Werner, Thomas Wiloch, and Eddie Willie.
Issue 3, from 1982, featured fiction by A. Bertram Chandler, Richard Grant, Stephen Greshan, and Claudia Peck. Illustrations were by Brad Foster, Miron Murcury, Art Roland, and others.
Issue four, from 1983, included fiction by Paul Bond, E.T. Caldwell, M.E. Clinton, G.E. Coggshall, Andrew Darlington (Ludd's Mill), Janet Gluckman, T. Christopher Kelly, SuAnn M. Kiser, G.W. Perriwils, Jonathan Raz, S.A. Smith, and Fiona Blackstone Zimmer. Poetry was by Brock, Mogens Brondum, Marion Cohen, Don Fioto, Robert Frazier, Joey Froehlich, Scott E. Green, Thelma Ireland, K.L. Jones, Ruth Lechlitner, Esther M. Leiper, ligi, Mary Makofske, Robert Randolph Medcalf, Jr. (Apogee), Jessica Amanda Salmonson, Dean Allen Schreck, Kathleen Taylor, and Leliah Wendell (Undinal Songs). Art work was by Sue Fisher, Peter Laird, Randy Moore, Miron Murcury, and Hans-Peter Werner, and graphic story by Patricia L. Schwerin.
Issue 5 , the final issue, appeared in 1986 and included articles by Bruce Byfield, fiction by William Barfield, Kristan Lawson, Sharon Lee, Albert J. Manachino, Jim Neal, Shari Prange, Jonathan Raz, Lisa Shulman, Margo Skinner, John Alfred Taylor, Kristine K. Thompson, Gene Van Troyer, Theresa L. Valenski, Frank Ward, and Bill Woffington. Poetry was by D.J. Baker, Richard Bastian, John Bell, Susan Bernhardt, John Gregory Betancourt, Michael R. Collings, Cathy Young Czapla, Keith Allen Daniels, Steve Eng, Patricia Fillingham, Frank Finale, Janet Fox, Joey Froehlich, Scott E. Green, R.S. Harding, Susan Henderson, Penny Kemp, John Kremer, Frances Langelier, Rebecca Lyons, Jim Neal, Marsha Nichols, David Prill, D.M. Rowles, Steve Sneyd (Data Dump), C. Taylor, Kendra Usack, Thomas Wiloch, Mark Worden, and Paul Edwin Zimmer. Comics were by Brad Foster and Mel White.
Other writers featured include Mathais B. Freese.