Apogee
From ZineWiki
Jump to navigation
Jump to search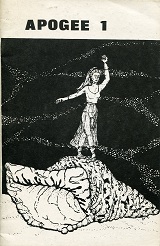 Apogee was a poetry zine edited by Robert (Bob) Randolph Medcalf Jr.
Apogee was published in Baltimore, Maryland, U.S.A. and was subtitled, "an illustrated anthology of poetry of the imagination". The first and only issue was released in 1981.
Contributing poets included William R. Barrow, Bruce Boston, Thomas M. Egan, Gregory FitzGerald, Janet Fox (Scavenger's Newsletter), Robert Frazier (Star*Line), Joey Froehlich, Robert Randolph Medcalf Jr., and Mel Spivak.
Cover art was by Kathleen Taylor, who also provided interior illustrations, along with Doug W. Hiser Jr. and Medcalf.