Overspace
From ZineWiki
Jump to navigation
Jump to search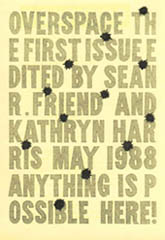 Overspace was a fanzine by Sean Russell Friend with Kathryn Harris, Isabel Freeman, and Rachel Kinnaird.
Overspace was published in Chippenham, Wilts, England. The first two issues appeared in 1988 with Kathryn Harris as co-editor. Issues #3 and #4 were edited by Sean R. Friend. Issue 5 to 12 were edited by Sean R. Friend and Isabel Freeman. Issues 13 to 15 were edited by Sean R. Friend and Rachel Kinnaird. 15 issues were published in all, the last in 1992. Overspace was devoted to fantasy, horror, and weird fiction and poetry.
Covers were by Sean R. Friend, Kerry Earl (#15), and John Light (#7, #8, #10).
Contributors of fiction included Gerry Adams, Marcus Alexander, Bruce P.O'Toole Baker, Jason Cairn, Paul F, Cowlan, Stan Darnbrook, Matthew Dickens, Andrew Eastwood, Carole England, Jonathan Falk, Honey Fielding, Kevin Forward, Patrick Fox, Isabel Freeman, Alan Garside, Neil K. Henderson, Adrian Hodges, Liz Honeywill, Dave W. Hughes, Zachary Kane, Max Kerrighan, John Light, D.F. Lewis (Nemonymous), Susan Mackenzie, Geoffrey Maloney, Todd Mecklem, Eileen Shaw, Deborah Stubbs, John Townsend, and D.S. Wakefield.
Contributors of poetry included John Binns, Keith M. Bishop, Keith Carpenter, Lynda Compton, Michael Francis Cooper, S.P. Dale, Sean R. Friend, Winston Hailes, J.F. Haines (Handshake), Dave Hughes, Ann Keith, Duncan Kilmery, Steven G. King, John Light, Emrys McConnell, Pip Ress, David Shackle, Geoffrey Shaw, Steve Sneyd (Data Dump), Brian C. Taylor, Sarah Turner, and Darren West.
Articles were by Chris C. Bailey, Julian R. Bills, Isabel Freeman, Kathryn Harris, L.J. Hurst, Racehl Kinnaird, Steve Rothman, and Madawc Williams.
A short play by Neil K. Henderson also appeared in #5, and a H. P. Lovecraft word search appeared in #10.