Star*Dust
From ZineWiki
Jump to navigation
Jump to search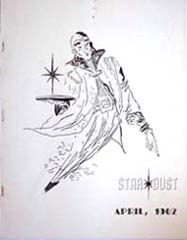 Star*Dust was a science fiction fanzine published by Bill Bowers in the U.S.A.
The first issue of Star*Dust appeared in April 1962.
Contributors of fiction include Don F. Anderson, Roger Alan Cox, Roger Ebert, Judy Glad, Ray Nelson, Jerry Pacht, John Todd, and William Lawrence.
Contributions of poetry came from Richard Ambrose, George Jay Crawford, Roger Ebert, E.E. Evers, Judy Glad, Dave Hulan (Pelf), and John Pesta.
Articles were by Bill Bowers, Jack L. Chalker, and Robert (Buck) Coulson (Yandro).
Contributors of art work include Bill Bowers, Roger Cox, Gary Deindorfer, Phil Harrell, and Nancy Share (Hodge-Podge, Ignatz, Torrents).
Bill Bowers later went on to do Outworlds fanzine.