Hodge-Podge
From ZineWiki
Jump to navigation
Jump to search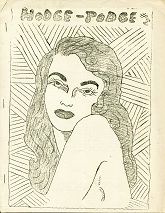 Hodge-Podge was a science fiction fanzine published by sisters Marie-Louise Share and Nancy Share from Danville, Pennsylvania, U.S.A.
Hodge-Podge was the first fanzine published by Nancy Share and her sister Marie-Louise Share, emerging in the early 1950s. The first issue is dated September 1953. The 4th issue, appearing in December 1953, was 30 pages, and by the 11th issue, appearing in September 1954, it had increased to 48 pages. At least 14 issues were released, #14 being distributed in October 1955.
Robert Bloch (Science Fiction Fifty Yearly), Redd Boggs (Sky Hook), David English (Fantasias), Walt Klein (Dark Evolution), Art Rapp (Spacewarp), and Rex Ward were among the prose writers.
Hodge-Podge also featured poetry by Garth Bentley, P.H. Economou (Phlotsam), W. Paul Ganley (as Toby Duane) (Fan-Fare), Claude Hall (Muzzy), Walt Klein, Al Leverentz (Grotesque), Calvin T. Marsden, Orma McCormick (Starlanes), Art Rapp, Virgil Ritchie, and Bob Wakerman.
The cover art, and most of the interior illustrations, for the first issue was done by Glover Prescott, with additional art work by the editors, including "Kabu", a fictitious personality invented by Nancy Share.
Letters came from Walt Willis (Hyphen), among others.
Nancy Share went on to publish Ignatz and Torrents and was the art director for Fan To See. She later co-edited the zine Churn with Art Rapp (Spacewarp).
External Links