ST-Phile
From ZineWiki
Jump to navigation
Jump to search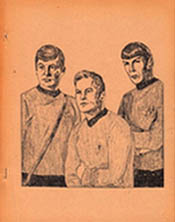 ST-Phile was a media science fiction fanzine devoted to Star Trek published by Juanita Coulson, and edited by Juanita Coulson and Kay Anderson.
ST-Phile was published in Indiana, U.S.A., and was first released in January 1968, during the broadcast of the original Star Trek television series. It was a mimeographed publication of 29 pages, and was entirely non-fiction, featuring articles, essays, verse and art work.
Art work for the first issue was by John D. Berry (Egoboo), Juanita Coulson, Margaret Dominick, Devra Langsam (Spockanalia), Charles Rein, and Bjo Trimble (Melange, Shangri L'Affaires), with a front cover by Doug Lovenstein.
Contributors of writing included articles by Kay Anderson, Ruth Berman (Despatch, Inside Star Trek, T-Negative), Juanita Coulson, S.M. Hereford, Shirley Meech (Plak-Tow), Gene Roddenberry, Bjo Trimble, John Trimble (Pas-Tell, Melange, Shangri L'Affaires), and Bob Vardeman (Sandworm).
The second issue was released in November 1968, and is 44 pages.
The art work for Issue 2 was by Alicia Austin (Kevas and Trillium), Mary Ann Cappa, Juanita Coulson, Margaret Dominick, Carol Lee, Gary Mason and Rosalind Oberdieck. The front cover was by Juanita Coulson.
Articles for the second issue were by Kay Anderson, Ruth Berman, J.K. Colander, Juanita Coulson, Jean Lorrah (Pandora), Gary Mason, Emily Mullen, and E.A. Oddstad (Eleanor Arnason, co-editor of All Mimsy). Contributions of poetry came from Shirley Meech and Emily Mullen.
Juanita Coulson also published the Hugo Award winning fanzine Yandro.