Kevas and Trillium
From ZineWiki
Jump to navigation
Jump to search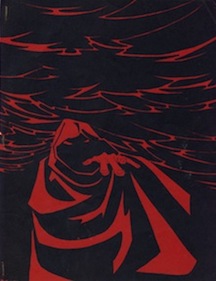 Kevas and Trillium is a science fiction fanzine by Alicia Austin, Maureen Bourne and Rosemary Ullyott, as "The Cartel".
Kevas and Trillium was released in 1968 in Ottawa, Ontario, Canada. The first and only issue was a split zine with Hugin and Munin by Richard LaBonte. It featured a red and black cover and 28 pink pages.
Contributing artists include Jack Gaughan, whose work appeared on the back cover.
Although not devoted entirely to the television series Star Trek, the title comes from an episode of the show. Articles about Star Trek include the story "Four Days In A Filthy Ford", about Canadian fans driving to St. Charles, Illinois, U.S.A. to see Leonard Nimoy in Visit to a Small Planet; a humorous conversation between Spock and Kirk; a survey of accents on the show; a scientific analysis of tribbles; and a description of The Cartel, headquarters for the Gene Roddenberry Appreciation Society, The Mark Lenard International Fan Club, and the Rick Carter International Fan Club.
Other articles include a short summary of the political situation in Canada, and the satire "Super Mountie" by Alicia Austen; humour; graffiti; record, comic book and book reviews; and fan club news.
Alicia Austin went on to become a highly respected artist, winning the Hugo Award for Best Fan Artist in 1971. Rosemary Ullyott went on to be nominated for a Hugo Award for Best Fan Writer. Both were associated with, and regular contributors to Energumen, where their work first began to be recognized and appreciated.
External Links