Worlds Apart
From ZineWiki
Jump to navigation
Jump to search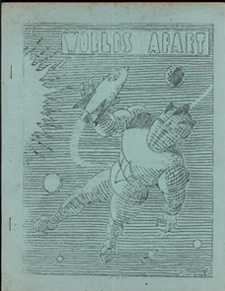 Worlds Apart was a science fiction and fantasy zine edited by J.T. Oliver, Paul D. Cox, Van Splawn, and John Kelly Jr. and published by The Stone Age Press in Columbus, Georgia, U.S.A.
The first and only issue is dated February 1951.
It contained poetry by Orma McCormick (Starlanes) and Lee Hoffman (Quandry, The Chattahoochee, Okefenokee, & Ogeechee Occasional Gazette, Science Fiction Five Yearly), fiction by Paul D. Cox, nonfiction by Lee Hoffman and J.T. Oliver, and other items.
Cover art was by Kraushaar. Interior drawings came from Kraushaar and Arthur A. McCourt.
Three of the editors followed up Worlds Apart with their new title, Time Stream.
Paul D. Cox also edited Just Plain Dill Pickle, Other Worlds, and Resonance.
Van Splawn also edited Djinn, The Fantasmith, Mars, Prometheus, Soma, The Star Rover, and Symphony.
J.T. Oliver wrote short stories, some of which appeared in several fanzines of this period, and others published in anthologies such as Fantasy Book (Fantasy Publishing Company, Inc.. 1951), Spaceway (1953), and Science and Sorcery (Zebra Books 1978), all edited by Garrett Ford, pseudonym of William Crawford, editor of Marvel Tales. In May 2013, Bill Plott, editor of Sporadic, published a one shot titled, The J.T. Oliver Photo Collection on eFanzines.com. which includes photos of J.T. Oliver and Paul Cox, editors of Worlds Apart, as well as contributor Lee Hoffman, and other writers and fanzine publishers from the early years of the last century.
External Links