The J.T. Oliver Photo Collection
From ZineWiki
Jump to navigation
Jump to search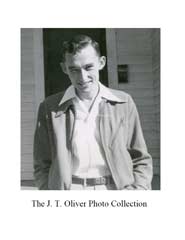 The J.T. Oliver Photo Collection is a science fiction fanzine by Bill Plott.
Released in May 2013, The J.T. Oliver Photo Collection is a one shot publication from Montevallo, Alabama, U.S.A. It was distributed by the Southern Fandom Press Alliance, and published on eFanzines.com.
J.T. Oliver was the science fiction fanzine co-editor of Worlds Apart (with Paul D. Cox, John Kelly, Jr., and Van Splawn) and Time Stream (with Paul D. Cox and Van Splawn), as well as a writer, whose story "The Peaceful Martian" appeared first in Fantasy Book #8 in 1951, and later in the anthology Science and Sorcery, edited by William Crawford (as Garrett Ford) and published by Fantasy Publishing Company in 1953, and reprinted in 1978.
The J.T. Oliver Photo Collection includes writing by Bill Plott, with his account of acquiring these photographs from J.T. Oliver, descriptions of the subjects of the photographs, and historical background. Featured are photos of J.T. Oliver and his co-editor Paul Cox, who also edited the fanzine Other Worlds; Lee Hoffman, editor of Quandry, Science Fiction Five Yearly, Chooog and The Chattahoochee, Okefenokee, & Ogeechee Occasional Gazette; Ray Bradbury, editor of Futuria Fantasia; William Crawford, editor of Marvel Tales; Charles D. Hornig, editor of The Fantasy Fan; Julius Schwartz, co-editor of The Time Traveller, Bob Tucker, editor of Le Zombie and Science Fiction Newsletter, and others.
Bill Plott also publishes the fanzine Sporadic, and has previously published Maelstrom.
External Links