Epos: A Quarterly of Poetry
From ZineWiki
Jump to navigation
Jump to search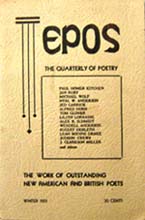 Epos: A Quarterly of Poetry is a small press publication or "little magazine" devoted to poetry edited by Evelyn Thorne and Will Tullos and published by New Athenaeum Press.
The first issue of Epos appeared in Fall 1949, published in Lake Como, Florida U.S.A. It was published until the 1970s. The 25th Anniversary issue, Vol. 26, No. 2, was published in 1975.
Contributors included George Abbe, Richard Brautigan, Joseph Payne Brennan (Essence, Macabre), Charles Bukowski, Stanton A. Coblentz (Wings), Joseph Cohen, Isabelle Cox, Judson Crews, Raymond Currier, August Derluth, Alfred Dorn, Frank Finale, Suzanne Gross, Colette Inez, Will Inman, Jack Lindeman, Lilith Lorraine (Different, Flame), Ralph Luce, Anne E. Marshall, John McEvoy, Alden Nowlan, Donald J. Paquette, Marge Piercy, Clark Ashton Smith, Ray Smith, John Tagliabue, Harvey Tucker, Michael Wolf, Harriet Zinnes, and others.
Contributing artists included Charles Bukowski, Neil Thomas, Ben Tibbs, and Bethell Wilkinson.
One 'extra' issue of Epos was devoted to the poems and drawings of Charles Bukowski, entitled Poems and Drawings, released in 1962.
Evelyn Thorne was also the Associate Editor of Challenge.