Wings
From ZineWiki
Jump to navigation
Jump to search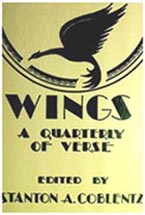 Wings was a small press publication, or "little" magazine, edited by Stanton A. Coblentz and published by The Wings Press.
Wings is subtitled "A Quarterly of Verse." It was first published in Mill Valley, California, U.S.A. in the spring of 1933, and continued on until the 110th issue, published in the summer of 1960.
Contributors included Garth Bentley, Walter John Coates, R.L. Cook, e.e. cummings, August Derleth, Alfred Dorn, Leah Bodine Drake, Max Eastman, Otto Freund, R.L. Jenkins, Douglas V. Kane, Lilith Lorraine, Raymond McCarty, J. Corson Miller, Minnie Hite Moody, Rosalie Moore, John Frederick Nims, William J. Noble, Frank E. Palmer, Dorothy Quick, Hugh Wilgus Ramsaur, David Russell, Sydney King Russell, Leslie Savage, Clark Ashton Smith, Kathleen Sutton, Eunice Thomson, Evelyn Thorne (Epos: A Quarterly of Poetry), Joseph Upper, Harold Vinal, and Florence Roper Wilson.
Clark Ashton Smith was featured in several issues, including Summer 1933 (1.2) ("Lichens"), Summer 1942 ("Wine of Summer"), Winter 1943 (5.8) ("Town Lights"), Spring 1943 (6.1) ("Future Pastoral"), Autumn 1944 (6.7) ("Midnight Beach"), Spring 1945 (7.1) ("Twilight Song"), Winter 1946 (7.6) ("Yerba Buena"), Summer 1946 (7.6) ("Paean"), Spring 1947 (8.1), and Winter 1951 (10.4) ("Not Theirs the Cypress-Arch").
Stanton Coblentz was also Associate Editor for the poetry publications Different and Challenge, published by Lilith Lorraine. As well, his work was published in such science fiction pulp magazines as Amazing Stories and Fantastic Story Quarterly, among others.