Anvil
From ZineWiki
Jump to navigation
Jump to search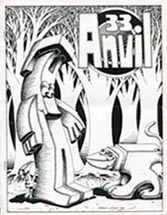 Anvil is a science fiction fanzine published by the Birmingham Science Fiction Club in Birmingham, Alabama, U.S.A.
The first issue of Anvil was released in November 1978 with editor Wade Gilbreath. Jim Gilpatrick took over editorship with the March 1980 issue. The August 1981 issue was edited by D.L. Burden and Jim Cobb, the October 1981 issue by Jim Phillips, and then back to D.L. Burden and Jim Cobb for the January 1982 issue. In January 1983 Charlotte Proctor assumed editorship and the fanzine remained with her for the next ten years. In 1993 issue 55 was released, the last with Charlotte Proctor as editor. Julie Wall then took over the editorship from her.
Contributions of artwork came from Brad Foster, Cindy T. Riley, and Taral Wayne (DNQ), among others.
Contributing writers included Roy G. Bivens, Buck Coulson (Yandro), Meade Frierson III (HPL), Patrick J. Gibbs, Richard Gilliam, David Langford (Ansible), Bob Shaw, and Roger Weddall (Thyme).
Also included were interviews with Tom Clancy, among others.
External Links