Karass
From ZineWiki
Jump to navigation
Jump to search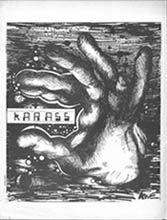 Karass was a science fiction fanzine by Linda Bushyager.
Published in Prospect Park, Pennsylvania, U.S.A., Karass was a "fannish newszine, invaluable for keeping up with the U.S. scene", said Darroll Pardoe, in his review of Karass # 6 in Checkpoint # 53, of September 1974. It ran from January 1974 till October 1978, with 38 issues published.
Contributors of articles included Michael G. Coney, and James Smart, among others. Columns were written by Gary Farber, and Mike Glicksohn (Energumen, Xenium).
Artwork was contributed by Alpajpuri (Paul Novitski) (Carandaith), Brad Balfour, Neil Ballantyne, Randy Bathurst, Harry Bell (Grimwab), Sheryl Birkhead (The National Fantasy Fan), Grant Canfield, Connie Faddis (Interphase), Adrienne Fein, Carol Ferraiuolo, Ken Fletcher (Rune), Dany Frolich, William Gibson (Genre Plat), Mike Gilbert, Howard Green, Dave Haugh, C. Lee Healy, Terry Jeeves (ERG), Frank Johnson, Jay Kinney (Nope!), Bill Kunkel (Rats!, Four Star Extra), Jim McLeod, Sandra Miesel, Ron Miller, Pauline Palmer (Wild Fennel), Joe Pearson, David Piper, Andy Porter (Algol), William Rotsler, Marc Schirmeister, Stu Shiffman (Raffles), Jim Shull, Al Sirois, Dan Steffan (Boonfark), Mike Streff (Quantum), Taral Wayne (DNQ), Tim Zell, among others.
Logos were by Bill Bridget, and Jeff Schalles.
Karass was the second zine by Linda Bushyager, begun while she was still publishing her first fanzine Granfalloon, which was released from 1966 to 1976. After Karass, she co-published Duprass with Leslie Smith in the 1980s.