Toward Tomorrow
From ZineWiki
Jump to navigation
Jump to search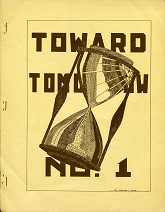 Toward Tomorrow was a science fiction fanzine edited by James Kepner in Los Angeles, California, U.S.A.
Four issues were published, two in 1944 and two in 1945.
The first issue (Spring 1944) was dedicated to A. Meritt. It contained poetry by Jean Arnold, Jon Arnold, Conrad Desty, and Kepner; fiction by Kepner and Lynn Peterson; articles by John L. Gergen (Tycho) and Kepner; illustrations by Roderick Christian, Ronald Clyne, Jonathan Lakely, and Walter E. Marconette (Scienti-Snaps). Cover art was by Bill Watson (Diablerie, Sappho).
The second issue (June 1944) contained poetry by Kepner.
The third issue (January 1945) contained poetry and nonfiction by Kepner.
The final issue (June 1945) was dedicated to Amazing Stories. It contained poetry by Kepner, articles by Arthur Louis Joquel (Specula, Sun Trails, Shangri L'Affaires) and Kepner ("The Social Structure of Fandom"), and a book review-article on Philip Wylie's Generation of Vipers by Jack F. Speer (The National Fantasy Fan); this issue also included reviews of many fan publications, including Forrest J Ackerman's poemzine Outlandi and Larry Farsaci's poemzine Star Bound. Cover art was by Bill Watson.