Toward Yesterday
From ZineWiki
Jump to navigation
Jump to search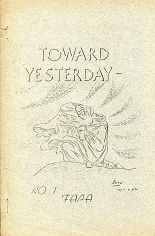 Toward Yesterday was a science fiction zine edited and published by "Jike" (a pseudonym for James Kepner) in 1943 from Los Angeles, California, U.S.A.
Only one issue was published, dated December 1943. It was distributed through the Fantasy Amateur Press Association.
It contained writing by Jon Arnold and Kepner, and artwork by Kepner.
In 1944, James Kepner released Toward Tomorrow, the follow-up publication to Toward Yesterday. Four issues were released, from Spring 1944 to June 1945.