Garage Floor
From ZineWiki
Jump to navigation
Jump to search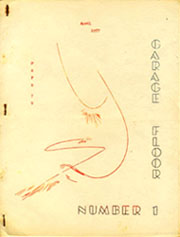 Garage Floor was a science fiction fanzine by Larry Stark and Jean Young.
Garage Floor was published in the 1950s in Cambridge, Massachusetts, U.S.A. The first issue appeared April 1957, and was distributed by the Fantasy Amateur Press Association. At least three issues were released.
Larry Stark and Jean Young were among the fans at NyCon II, the 1956 Worldcon, who became known as the "Balcony Insurgents", refusing to overpay for bad food and sneaking into the balcony to hear the dinner speech. Other Insurgents included Boyd Raeburn, Ron Ellik, Dick Eney, Bob Tucker, Ted White, and Andy Young, Jean's husband.
Larry Stark and Jean Young also did the fanzines The Cambridge Scene and Tra-La. They also co-edited Ye Boiffion Boy Birdwatchers' Bugle-Blast with Lee Hoffman and Andy Young in 1957.
With Andy Young, Jean co-edited Vile Deeds At Midnight, and Yobber and, on her own, Jean Young also published the fanzines A Fanzine for Susan Margaret, Gasconade, Lost in the Stars, Roubidoux, Scree, and Sundance. With William Rotsler and Jack Harness, Jean co-edited ZIUQ.
In the early 1950s, Larry Stark had co-edited the fanzine Potrzebie with Bhob Stewart and publisher Ted White, dedicated to EC Comics, and then Stellar, with Ted White from 1956 to 1957. In 1958 Stark released A David English Sketchbook, dedicated to the illustrations of David English, editor of Fantasias.