BLAT!
From ZineWiki
Jump to navigation
Jump to search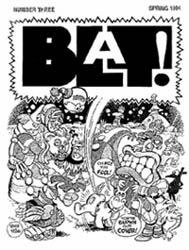 BLAT! was a science fiction fanzine by Dan Steffan and Ted White.
BLAT! was published in Virginia U.S.A. in the 1990s. Issue #1 appeared in Spring 1993. Issue #2 was released in Fall 1993. It also featured a republication of issue #1 of Ted White's fanzine Spung, with contributions from Greg Benford (Void). Issue #3, from Spring 1994, features the until now never-published Egoboo #17 (co-edited with John D. Berry). Issue #4, the last issue, was published in 1995 and featured a republication of Syndrome #5, with contributions from Greg Benford, and Dean Koontz (SF Opinion), and a letter from Gene Simmons (Faun).
BLAT! won the 1994 FAAn Award for Best Fanzine.
Contributors of art work included Dan Steffan, Steve Stiles, and Richard Thompson, among others.
Contributions of writing included Greg Benford, Rob Hansen (Pulp), Andy Hooper (Apparatchik), Frank Lunney (Beabohema), Barnaby Rapoport, William Rotsler, Jeff Schalles (Rune), Stu Shiffman, Lynn Steffan, Steve Stiles, Will Straw (The Willard R. Biscuit Newsletter), and Bob Tucker (Le Zombie).
Comic strips were featured by Dan Steffan and Tom Foster.
Letters came from Harry Andruschak, Pamela Boal, Alan Bostick, David Bratman, Charles Burbee (Shangri L'Affaires), Bill Donaho (Habakkuk), Don Fitch, Terry Floyd, George Flynn, Mike Glicksohn (Energumen), Steve Green (Critical Wave), Chuch Harris, Lee Hoffman (Science Fiction Five Yearly), Terry Jeeves (ERG), David Langford (Ansible), Robert Lichtman (Trap Door), Ray Nelson, Joseph Nichola (Vector), Dave Rike (Innuendo), Martin Tudor (Critical Wave), and Walt Willis (Hyphen).
Co-editors Ted White and Dan Steffan had previously published 41 issues of Pong from 1980 to 1992.
In the 1970s and 1980s, Dan Steffan had published Boonfark.
External Links